Sushi flavored with Bergamot and Basil
2 person(s)
Medium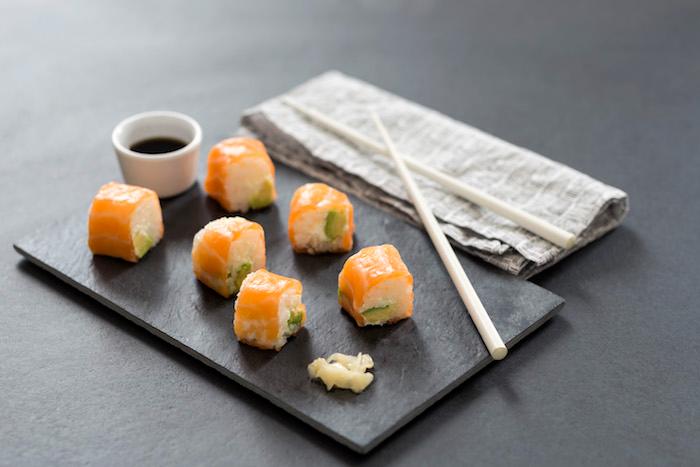 1 tsp. salt
150g of cucumber
1 tsp. wasabi paste
300g Japanese rice or round rice
3 tbsp. of rice vinegar
3 tbsp. powdered sugar
6 large slices of smoked salmon
3 to 5 drops of flavoring of your choice
Preparation:
Rinse the rice several times in cold water, then let it drain for 30 minutes.
Put the rice in a saucepan.
Add 40 cl of cold water and bring to a boil. Lower the heat and cover.
Let cook for 15 minutes on very low heat.
Turn off the heat and let stand for 10 minutes without uncovering.
In a bowl, combine vinegar, sugar, salt and selected flavoring.
Put the rice in a deep dish and pour it in.
Season by aerating the rice and stirring gently for 3 to 4 minutes.
Cut the seeded cucumber into thin slices.
Form rectangles in the slices of smoked salmon. Chop the scraps and gently fold them into the warm rice.
Place a slice of salmon on cling film.
Cover with a thin, even layer of rice, leaving a 1 cm margin.
Place cucumber slices on top.
With the help of the cling film, roll the salmon slice on itself to obtain a tight and regular roll.
Wrap in the film.
Prepare five other rolls in the same way.
Cut each roll into 3 equal pieces.
Serve with pickled ginger if desired.
Enjoy!
Flavors used in this recipe :