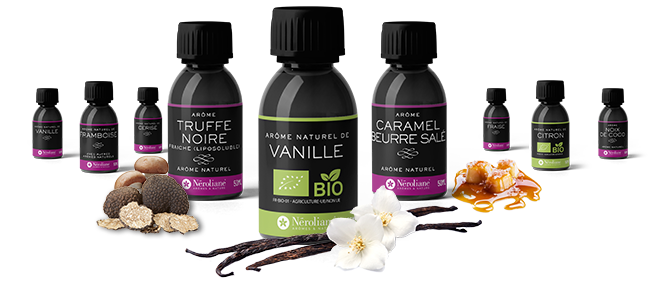 WWW.NEROLIANE.COM
The leading website in France and Europe
for the production of natural food flavors to give a healthy and light taste to your recipes. In the small town of Grasse, known worldwide for the production of natural flavors, Neroliane creates every day new organic flavors while respecting nature. Neroliane offers a wide range of flavors to allow cooking enthusiasts to unleash their culinary creativity and bring color, flavor and magic to all recipes. Flavors for desserts to natural flavors for ice cream and even for savory recipes, like our mushroom flavors. Neroliane food flavors are also ideal for catering professionals such as restaurateurs, pastry chefs and chefs. Strictly made in France, all our flavors are chosen to respect the European regulations and standards in force regarding hygiene, traceability and quality. Particularly attentive to the nutritional aspect and the benefits that nature offers us, the Neroliane team is committed to selecting quality flavors, 100% guaranteed and to prepare them so that they are easy to use for each of you.
If you have any questions or information about our flavors, please feel free to contact us.
Our goal?
We want to offer you the best of nature!